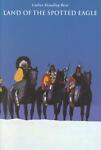 There's an interesting discussion going on over at Absolute Write about the newest plagiarism scandal to rock the romance world. I admit to being a bit late to this topic, since romance novels and I have kind of a hate-hate relationship (which is really understating the case; nothing says "supermarket line" quite like a Fabio cover). Anyway, apparently the fine folks at Smart Bitches Who Love Trashy Books (the subtitle is even better: "Come for the Dominican Bitches, Stay for the Man Titty") have outed one of the most popular romance writers in America (i.e. another person I've never heard of), Cassie Edwards, showing how she plagiarized large portions of Luther Standing Bear's Land of the Spotted Eagle and an article by Defenders of Wildlife for her book Shadow Bear. The evidence does seem pretty damning:
1. From Spotted Eagle: "There was no kneeling, no words were spoken, and no hands were raised, but in every heart was just a thought of a tribute. No assembly ceremonies were held in the morning, each and every person on his own account holding his moment of worship."
From Shadow Bear: "'That is because there is no kneeling, nor words spoken, nor hands raised, but in every Lakota heart there is just a thought of tribute,' Shadow Bear proudly explained. He turned to her so that their eyes met. 'You will learn that no assembly of our people is required for that tribute, either. Each and every person, on his own account, holds his own moment of worship.'"
Hmm. Well, maybe just a harmless mistake, right?
2. From Defenders Magazine: "Ferrets stalk and kill prairie dogs during the night. Using their keen sense of smell and whiskers to guide them through pitch-black burrows, ferrets clamp a suffocation bite on their sleeping prey — an impressive feat, considering that the two species are about the same weight."
From Shadow Bear: "'I read that ferrets stalk and kill prairie dogs during the night. Using their keen sense of smell and whiskers to guide them through pitch-black burrows, ferrets suffocate the sleeping prey, an impressive feat considering the two species are about the same weight,' Shiona said, shivering at the thought, for to her one animal was as cute and precious as the next."
Uh…
3. From Spotted Eagle: "So the sunflower and the buffalo were two beloved symbols of the Lakota. So first, last, and throughout existence, the Lakota knew that the sun was essential to health and to all life. In spring, summer, and winter its rays were welcome. In the spring its warmth brought forth new grass; in the summer its heat cured the skins, dried the meat, and preserved food for storage…"
From Shadow Bear: "She paused, swallowed hard, then said, 'The sunflower and buffalo are two beloved symbols of our Lakota people. The sun is essential to all health and life. In spring, summer, and winter, rays are welcome. In the spring, its warmth brings forth new grass; in summer its heat cures the skins, dries the meat, and preserves food for storage.'
Okay–what the hell!?
I've been teaching long enough to know that this is flat out plagiarism from the word go, and not particularly artful plagiarism at that. If I had an example like this from one of my students (and I have), the paper would get a zero and the student put on notice in my class and in the department that one more such case would result in immediate failure of the course and the student referred to the Dean. In the world of publishing, of course, the situation is a little different, and the consequences ought to be worse. You would assume that Ms. Edwards would release a public apology, the book would be pulled from the shelves, and some settlement made to the authors who had their work blatantly stolen. Maybe she could become an advocate for truth in writing from this point forward…giving seminars, talking to aspiring writers about what she's learned…right?
Nope, not so much. Not only did her publisher (Signet) not apologize for the plagiarism, it actually claimed she had done nothing wrong:
"Signet takes plagiarism seriously, and would act swiftly were there justification for such allegations against one of its authors. But in this case Ms. Edwards has done nothing wrong.
The copyright fair-use doctrine permits reasonable borrowing and paraphrasing of another author's words, especially for the purpose of creating something new and original. Also, anyone may use facts, ideas and theories developed by another author, as well as any material in the public domain. Ms. Edwards's researched historical novels are precisely the kinds of original, creative works that this copyright policy promotes.
Although it may be common in academic circles to meticulously footnote every source and provide citations or bibliographies, even though not required by copyright law, such a practice is virtually unheard of for a popular novel aimed at the consumer market."
Buhhhwhattt??
Leaving aside the not-so-subtle shot at academics in the last paragraph (although you jackasses may waste your time asking permission to use other people's work, we're too busy making money and don't have to put up with that crap. Stealing stuff is what we're all about. Run along now and play in your ivory tower.), this is perhaps the most ass-backwards explanation of plagiarism I've ever heard. "The copyright fair-use doctrine permits reasonable borrowing and paraphrasing of another author's words, especially for the purpose of creating something new and original"? Uh–no, no it doesn't. First of all, fair use applies to the educational arena (you know, where us naive academics like to play) and specifically non-profit and/or public good purposes. I promise you that if I start quoting Robert Jordan like it's going out of style in my next novel Tor isn't going to smile beatifically as I start cashing checks. Second, do any of those examples I just cited strike you as "reasonable"? Particularly when half of what Edwards is plagiarizing is from an actual Native American!? The resulting outcry from this ridiculous answer apparently caused Signet to reconsider, releasing a second statement that they now "believe the situation deserves further review." Uh-huh. As does their legal team's initial advice, no doubt.
But surely this is just the money-grubbing publisher's issue; Ms. Edwards, who claims to be sensitive to Native American causes and culture, obviously feels terrible about the whole business, right?
"Hi, Lisa,
I just got on My Space and I found your wonderful encouraging letter. Thank you for believing in me, for I have done nothing wrong. My publisher is standing behind me 100%, for they know my work better than anyone, and they know that all romance authors who use research for historicals have to use reference books to do this. My readers love this accurate material about the Indians. And if I couldn't use this material my books would not be worth anything to my readers who depend on me.
The sad thing is that I am writing these books now in a way to honor our Native Americans, past, present and in the future. And I am honoring my great grandmother who was a full blood Cheyenne. She would be so proud of me if she could read what I am writing about the Indians who have been so maligned for so long. And do you know? I feel picked on now as our Native American Indians have always been picked on throughout history. I am trying to spread the word about them and what do I get? Spiteful women who have found a way to bring attention to themselves, by getting in the media in this horrible way.
Right now I am getting hit from all sides….CNN, The New York Times, AP, everyone who those women could think of to contact. And what is also sad is that a fellow author, has spoken up and condemned me.
Thanks again for your support. When I am feeling stronger I plan to write a bulletin on My Space, but right now I am totally drained of energy from what has been done to me. I hope that you will tell your friends, who are so much also mine, the wrong that has been done to me, and tell them that I will get through this. I will be found innocent and vendicated of any wrong.
For now, it's all too raw and horrible, but I will be alright.
Love, Cassie"
(The "fellow author" who condemned her, by the way, is Nora Roberts, who I have heard of and who knows something about plagiarism issues.) That's right, kids: not only does Edwards not want to apologize, she thinks she is the victim…and not only the victim, but a victim just like the Native Americans were.
Let's just let that sink in for a minute. (As one of the commenters put it: "Pointing out copy-pasted paragraphs of statistical information about ferrets: the smallpox blankets of the twenty-first century.")
I'm not sure what I find more stunning–her breathtaking defiance of the evidence right in front of her ("Sure I was holding the ax which was in her head, and naturally I was yelling at her, and of course I had told all my friends and family I was going to kill her with an ax, but I didn't do anything wrong!!!!") or the almost obscene reversal of blame she engages in ("you know, no one ever thinks about the murderer's feelings!"). It's Patriots Videogate redux–I'm just the criminal, man, don't blame me. But however you want to slice it, it's apparent from her reaction and that of a lot of her fans that something's getting lost in the translation here: either she doesn't get it (which would imply a level of ignorance from a bestselling author so staggering I can't freaking deal with the possibility), or she does get it and is involved in one of the most disingenuous and reprehensible campaigns of "screw you, stop attacking me, I'm a big time author, bitches!" I've ever seen. Neither option is particularly appealing, especially concerning a woman who claims to be honoring Native Americans while referring to them as "Indians" in the same breath.
In a way none of this should be surprising. Teachers routinely ignore blatant examples of plagiarism in their classrooms because they just don't want to take the time to track down the relevant material, and as a result a number of students sail through their educational careers merrily stealing and robbing other people's intellectual property without once being slapped down for the practice. The result? They get out into the "real" world (well, pseudo-real in the case of publishing) and do the exact same thing they learned would get them places earlier–steal like mad and angrily deny culpability if and when they get caught. Does anyone think that Cassie Edwards never did this before? She never wrote, say, some tenth grade paper on Moby Dick using something other than her own, er, rapier-like wit and silky smooth prose?
There's this cool bridge I know, see, and there's a big sale going on…
The point is that mindsets of this kind develop early, and it's incumbent on all the "first responders," if you will, to change that mindset as soon as possible, despite the tearful pleas and the furious denials. You do your students, children, or reprobate authors no favors by looking the other way for a minor infraction. Because the longer you wait, the more you let go, the stronger the suspicion becomes that there are no consequences for wrongdoing, and stealing really isn't that big a deal, and "everyone does it anyway" so who really gives a damn? And that, my friends, is where the Cassie Edwards of the world start to pop up. This certainly isn't the first time plagiarism has reared its ugly head; it's happening all over the place, in fact. But unless we stand up and say something now, we're going to have a hard time slowing it down.
So kudos to the Smart Bitches for the revelation. As I've often said, never was so much owed by so many to so few.
What do you mean that sounds familiar?